Landscaping with recycled bricks.


Landscaping with coloured charcoal concrete and recycled brick border in Camberwell.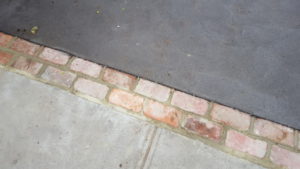 Our client in Camberwell requested landscaping and concrete paving that wouldn't clash with the style of their weatherboard Californian Bungalow.  The previous driveway consisted of lovely old paved bricks which needed to be replaced due to tree root damage.  Our client had decided not to replace with driveway in bricks as they wanted a harder surface but were worried concrete would not suit the style of their home.
We came up with the idea of incorporating the old brick them into the new landscaping by adding a curved brick border to new charcoal coloured concrete.  
We removed all of the existing brick and installed a concrete tree root barrier to prevent any damage to the driveway.  We then laid the coloured concrete and added the brick border.
By doing this we have achieved a really beautiful contrast between the charcoal concrete and red bricks which really makes the green of the foliage pop. 
This concreting technique also gives a new driveway an older feel. This style is suitable for older homes like California Bungalow, Federation and Victorian homes.